Block the Vote!
Democracy is not for everyone!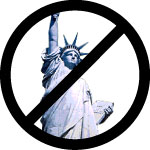 In the final month of the campaign season, we're launching a sophisticated effort to encourage the rabble to stay at home on election day and ensure that even if they hit the polls, their vote won't be counted. Called "Block the Vote", our nationwide campaign will both counter the insidious "get out the vote" efforts of various progressive organizations and celebrate the Republican-led vote suppression efforts underway in Florida, Michigan, and other battleground states.


RESOURCES
$ Slogans
$ Chants
$ Signs
$ Block the Vote leaflet
$ General B4B leaflet
$ "Don't Vote!" song
$ Action locations
$ Action scenarios
$ How to Block the Vote like a pro
$ Block the Vote Heroes trading cards
$ Block the Vote Heroes playing cards


SLOGANS

Democracy is Not for Everyone
Leave the Voting to Us
50% Turnout is Way Too High
Vote for Big Money, Not for Change


CHANTS

Just stay home on November 2,
Let Big Money speak for you!

Relax at home, watch Fox News,
Let us be the ones who choose!

1,2,3,4
We make voting such a chore
5,6,7,8
Go back home, it's not too late!


ACTION LOCATONS

Voter suppression emphasis:
$ Republican party/campaign offices
$ Polling places
$ Courthouses
$ Early voting sites - "Blockade" them
$ Post offices
$ Intersections, overpasses, side of busy roads/streets (see below)
$ Secretary of State office (Florida)

Voter mobilization emphasis:
$ Foodball and soccer games
$ Voter registration drives on campus
$ Concerts
$ Flea markets
$ Along busy roads and highways
$ Pernicious concerts like these
$ Local ACT events
$ Michael Moore events


ACTION SCENARIOS

SCENARIO 1 (voter mobilization emphasis)

Swing state Billionaires to stand at intersections, highway overpasses, etc, during rush hour in pairs.

The first Billionaire holds a sign that says:

TEACHERS [Long list of variations below]
Don't Vote, Nov. 2
Billionaires for Bush

The second Billionaire, standing so they will be seen second, holds a sign saying:

LEAVE THE VOTING TO US.
Billionaires for Bush
Block the Vote Campaign

Some variations on the first sign:

TEACHERS
WOMEN 18-30
UNION MEMBERS
UNEMPLOYED?
BAD CREDIT?
TROUBLED BY THE DEFICIT?
CONCERNED ABOUT THE ENVIRONMENT?
MIDDLE CLASS?
DON'T THINK IRAQ IS GOING WELL?
UNINSURED?
MAKE LESS THAN $200,000?
LOST YOUR JOB?


SCENARIO 2 (voter mobilization emphasis)

Billionaires show up on a scene (see action locations), express outrage and concern that voters are learning their rights, and try to buy people's votes with fake money. Tell them "leave the voting to us", "democracy is not for everyone" and "thank you for keeping us in chrge by not voting."


SCENARIO 3 (voter suppression emphasis)

Canvass wealthy neighborhoods trying to drum up support for voter suppression efforts. (should probably just be done as a media stunt a la candid camera – most people find canvassing tedious)


Other actions ideas

$ In order to vote, your stack of money must be this high [like entrance to an amusement-park ride]
$ Velvet rope around fake polling site: "This polling location reserved for Billionaires"
$ Parties at Diebold headquarters, office of Florida Secretary of State, and other allies
$ Protest Rock the Vote, ACT, MoveOn, and other efforts to get out the vote



---
New
Billionaire CD!
Stay the Course!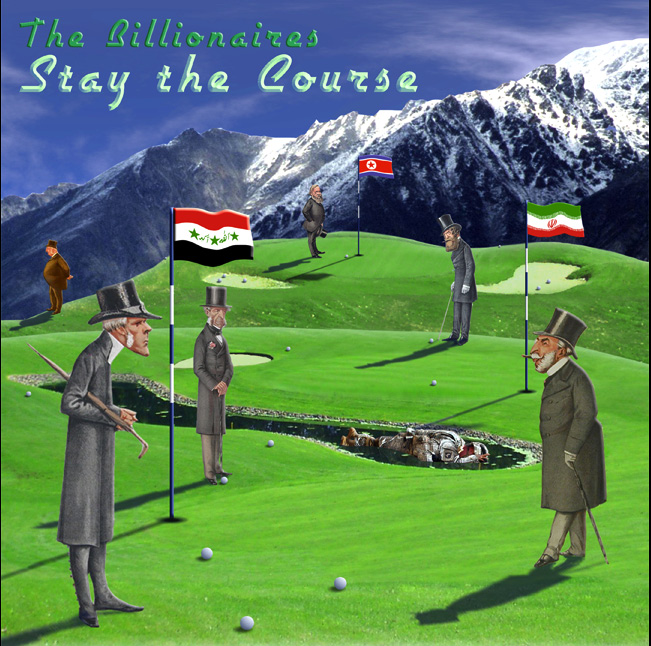 You decide
what you pay
per song!

Give 'em a listen!
Click here.
---
The
2008 Billionaire
Wall Calendar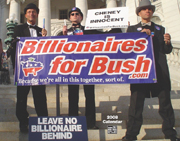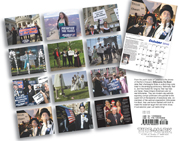 Click here.
---
Now Available
on DVD!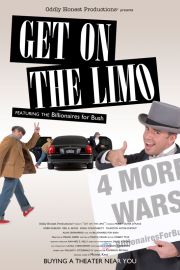 GetontheLimo.com
(Website requires Flash Player 8)
---
Whistle while you plunder: Buy our Music CDs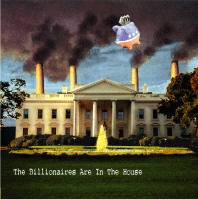 ---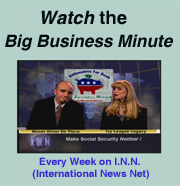 Watch the archives on the I.N.N. website, including a clip show of the first season,

---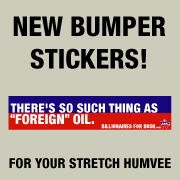 ---

Social Insecurity Calculator

See how much privatization will cost
taxpayers while we
reap billions!


---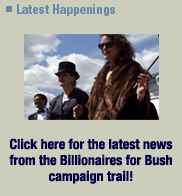 ---
Discover your
Billionaire name!
---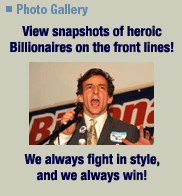 ---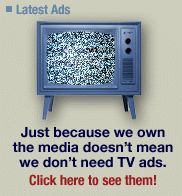 ---