Relive all your the best Billionaire News of 2005 with
The Big Business Minute
Formerly on the I.N.N. World Report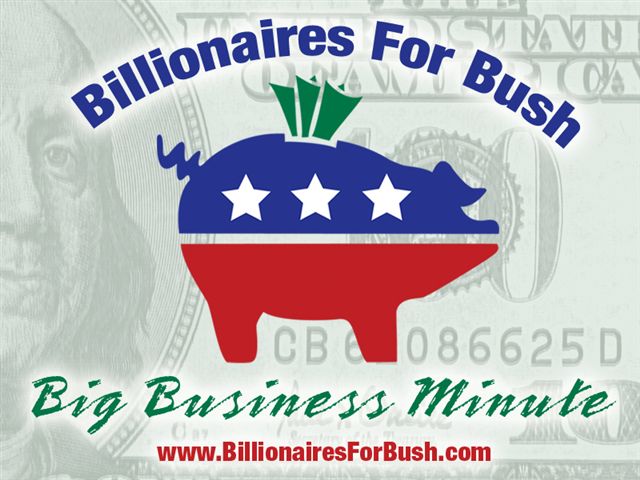 Site updated July 3th, 2007.
Click Here to watch the archives.
Republicans and Traders alike raved about this tell-all, one stop shop for the latest inside scoop on Big Business from the Beltway to the Delta. This weekly show was a must-see for the Corporate Elite! The Big Business Minute has covered every topic from Earth Day (Drain America First!) to Cindy Sheehan (War Takes a Holiday).
Hosted by charming Billionaire co-anchors Monet Oliver de Place and Ivy League-Legacy, and featuring a crack team of correspondents reporting live from some of the worlds most exotic locales, The Big Business Minute has attracted a core of dedicated fans (mostly government insiders and hedge fund mangers).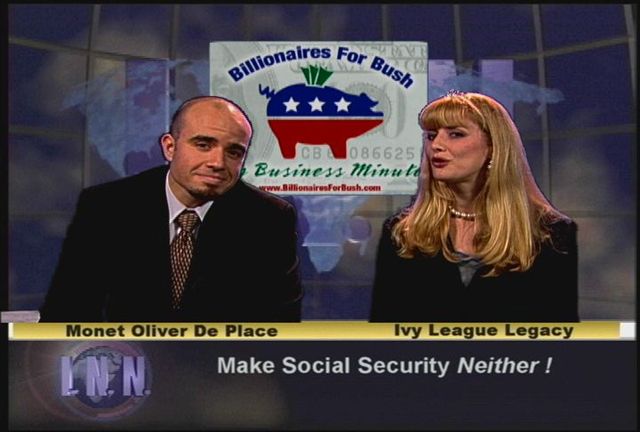 Produced by I.N.N. (International News Net), the segment aired Friday nights at 6:30 pm on the Dish Networks Free Speech TV and on cable channels all over the country between March, 2005 and January, 2006.

In case you missed the originals, here they are for your enjoyment.


---
See for yourself what our fans are raving about!
And I thought I was cozy with the White House!
- Ken Lay
If money is the oil of our democracy, then The Big Business Minute is the gauge that tells me just how much is in the pan!
CEO of Exxon-Mobil
Finally, a news show that celebrates inequality, privilege and profiteering!
- Dick Cheney
Joyce likes to stay up and watch Monet, but I'm more in it for the girls.
Donald Rumsfeld
---
EPISODES

MAKE SOCIAL SECURITY NEITHER!
Originally aired March 25, 2005
Get the insider scoop on the historic Billionaires For Bush auction of Social Security on eBay, as Big Business Minute Co-Anchors Monet Oliver DePlace and Ivy League-Legacy answer all your questions about the Social Security "crisis." Take from Main Street, Give to Wall Street!
TAX DAY
Originally aired April 14, 2005
Billionaires from around the country report on the annual Tax Day Festivities, as Co-Anchors Ivy League-Legacy and Monet Oliver DePlace say to average taxpayers, "Thank YOU for Paying OUR Fair Share!"
BANKRUPTCY: BRING BACK DEBTORS' PRISONS
Originally aired May 8, 2005
Monet Oliver DePlace hosts as Ivy League-Legacy reports about the Bankruptcy Bill from the deck of her yacht, the SS Write Off.
EARTH DAY: DRAIN AMERICA FIRST
Originally aired May 22, 2005
Ivy League-Legacy asks, "Clean Air--Can't sell it, Who needs it?" as Monet Oliver DePlace celebrates the opening of more public lands to industry with a live report from Yosemite National Park.
WAL-MART: WEALTHCARE, NOT HEALTHCARE
Originally aired May 27, 2005
Monet Oliver DePlace mans the anchor desk as Ivy League-Legacy travels to Arkansas for a visit to corporate headquarters of America's favorite mom-and-pop store, Wal-Mart, and report on recent victories in the corporate elite's battle to get out of paying for their employees' healthcare.
BILLIONAIRES UNVEIL NEW PROGRESSIVE POLICY ALERT SYSTEM
Originally aired June 2, 2005
Ivy League-Legacy holds down the anchor desk as Monet Oliver DePlace reports live from Karl Rove's secret Strategery Room, unveiling a new alert system that will make sure corporate lackeys in D.C. know exactly how the Billionaires want them to vote.

DELAY TACTICS: ETHICS CLEANSING
Originally aired June 16, 2005
Senior Washington Ethics Specialist Buddy O'Bush reports live from Washington DC on Tom DeLay's so-called "ethics violations."
DOWNING STREET MEMO...SO WHAT?
Originally aired July 1, 2005
Monet Oliver DePlace cuts through the BS with an incisive editorial on the rush to war; while Ivy League-Legacy jets off to Monaco with the Bush twins for a Jaager-fueled celebration of new Iraqi prison contracts.
KARL ROVE IS INNOCENT!
Originally aired July 16, 2005
Ivy League-Legacy worries that revelations that Karl Rove was the source of the Plame leak, but Monet Oliver DePlace is able to talk her down with a soothing report from the White House.
SUPREME COURT: WHY RENT WHEN YOU CAN OWN?
Originally aired July 29, 2005
Ivy League-Legacy anchors the home desk as Monet Oliver DePlace continues his Washington Insider coverage from the national capitol. This week he reports on the nomination of John Roberts for Chief Justice, brilliantly timed to distract attention from downers like the Downing Street Memo and the President's low approval rating.
THE ENERGY BILL: TO THE TEXANS GO THE SPOILS
Originally aired August 5, 2005
Monet Oliver DePlace returns home to the anchor desk, as Ivy League-Legacy reports live from the Gulf of Mexico, where Big Oil and the Bush Administration are partying hard thanks to the new Energy Bill.
CINDY SHEEHAN: WAR TAKES A HOLIDAY
Originally aired August 19, 2005
Monet Oliver DePlace mans the anchor desk as the Big Business Minute's glamorous Senior Crawford Correspondent Diva Denz makes a live report from outside the Bush Ranch, on how the CEO President is dealing with Cindy Sheehan's vigil.
INSIDER STOCK TIPS: GOODBYE IRAQ--GOOD BUY IRAN
Originally aired August 26, 2005
Ivy League-Legacy and Monet Oliver DePlace co-anchor this very special show, with a surprise call from the one and only Dick Cheney, who spills the beans on administration plans for Iran...
HALLIBURTON: WAR AND PROFIT
Originally aired August 12, 2005
Monet Oliver DePlace anchors the home desk while Ivy League-Legacy travels to the Middle East for a special interview with Dr. DeBooks of Kellogg Brown and Root, who discusses Halliburton's massive no-bid contracts in Iraq.
KATRINA RESPONSE: WAR ON WEATHER
Originally aired September 16, 2005
Ivy League-Legacy anchors the home desk while Monet Oliver DePlace makes a heart-wrenching pilgrimage...to Trent Lott's destroyed New Orleans mansion.
BILLIONAIRES FOR BUSH'S WAR
Originally aired September 23, 2005
Monet Oliver DePlace anchors as Senior Protest Scholar Ivy League-Legacy reports live from Washington D.C., where Billionaires For Bush plan to bravely counter-protest massive anti-war demonstrations planned for the weekend.
BIG AND EASY MONEY IN THE GULF
Originally aired October 7, 2005
Is the scandal-ridden Bush Administration being destroyed from within? Ivy has a bit of a meltdown trying to cope with the fallout from Katrina, and even Monet's sanguine reassurance falls flat when the subject of China comes up...
NORTH TO ALA$KA
Originally aired October 17, 2005
Monet responds to fan mail, and Ivy travels to Ketchikan, Alaska, to investigate Republican Representative Don Young's achievements in pork, including a $223 Million dollar "Bridge to Nowhere," all thanks to Bush's Highway Bill.
CHECKING IN WITH CHENEY
Originally aired October 21, 2005
Ivy and Monet get a call from the Big Dick Himself, as Vice President Cheney calls in to dismiss rumors that the Bush Administration is worried about fallout from the Valerie Plame leak.

TAX CUTS CREATE JOBS, HONEST!
Originally aired December 6, 2005
Ivy anchors this first show of the second Big Business Minute season, and Senior Tax Shift Specialist Monet Oliver DePlace takes time out from a session with his tailor to talk about Bush's extended tax cuts for the super-rich, and to lament the fact that all his buddies are getting indicted, and he feels left out!
CRASS WARFARE
Originally aired December 9, 2005
Economic Analyst Owen Dwight Howse, embedded with the Labor Department's Fifth Division, breaks down the latest economic numbers.
SEASON'S GREEDINGS FROM BILLIONAIRES FOR BUSH
Originally aired December 16, 2005
The Billionaire Follies perform selected carols from Dick Cheney's Holiday Spectacular. (All lyrics written by Clifford Tasner, a.k.a. Felonius Ax.)
JACK...OFF!
Originally aired January 6, 2006
Monet and Ivy interrupt their extended vacation and weigh in on the Jack Abramoff scandal. In an exclusive report, DC Correspondent Buddy O'Bush reveals just who will be fingered by the Billionaire-lackey-turned-traitor.
W DOES WASHINGTON
Originally aired January 17, 2006
Billionaire puppet, er, pal, George W. Bush calls into the studio to discuss NSA wiretapping, the Alito Hearings, and his new Xbox 360. Don't miss it!


The Official Archives on I.N.N.
---
The Big Business Minute

Free of spin, restraint, or regulations,

it's where the free market runs wild!
---
THE BIG BUSINESS MINUTE
Produced by I.N.N. and Billionaires For Bush 2005 - 6.
Written by Marco Ceglie and Melody Bates
Edited by Roland Marconi
Anchors: Melody Bates (Ivy League-Legacy) and Marco Ceglie (Monet Oliver DePlace)
Correspondents: Buddy O'Bush (Brian Fairbanks), Diva Denz (Shilpa Narayan), Dick Cheney (Mark Silverman), Doctor DeBooks (Mark Silverman), George W. Bush (Dave Bennett). (I.N.N., the International News Net, can be seen on Dish Network and FreeSpeechTV. http://innworldreport.net/)