Coronation Ball
On the eve of the nomination, Billionaires for Bush are throwing a fantastic dressed-to-the-nines Coronation Ball to re-appoint President George Bush.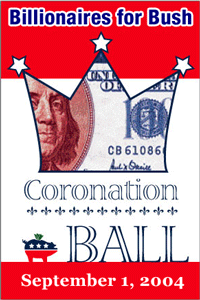 The ball will take place Wednesday, Sept 1, at 9pm, The Frying Pan, Pier 63, in Chelsea (23rd St & West Side Highway, a block from the Chelsea Piers; click here for map & directions).
"Formal" attire required. Yachts can be docked nearby. 21+ to attend. Sliding scale from $15 to $1,000,000.
An outdoor pier, with accompanying "post-industrial adventure boat," filled with DJ's, comic performance, live music and possible Supreme Court justice cameos will make for an evening to remember. Don't miss one of the most anticipated parties of the RNC.
This is our major summer fundraiser. We're up to 75 chapters and we're rolling on several exciting new initiatives, including a radio campaign, another "Get on the Limo" tour -- this time through the Southwest swing states -- and our Billionaires rapid response network to birddog Bush & Cheney wherever they go. And for this we need money.
Student tickets will be available at the door. Purchasers of $50+ tickets receive special billionaire merchandise gifts including billionaire CD's, stickers, t-shirts, and books.
This is a dressed-to-the-nines event. Come as a billionaire, be creative! Click here for fashion tips.
For more information about tickets contact Seymour Benjamins. To volunteer (and get in for cheap) contact Bourgois Zee.

Performers will include:

The Hungry March Band
The Infernal Noise Brigade
Zero Boy the human beat box
Oh de Twirlette sexy baton-twirlers
The Billionaires own Bling Bling K'ching singers
Mia the lovely Harpist
Agent Christian White
Jeannie Winters
DJ Askari & friends
Judy Gorman

Billionaires for Bush is a do-it-yourself street theater and media campaign using humor to show how the Bush administration has favored the corporate elite at the expense of everyday Americans. B4B is an independent 527 committee, with headquarters in NYC and over 75 chapters nationwide. Click here for an overview of our campaign. Billionaires for Bush is an independent 527 political organization. Contributions are not tax-deductible, and are part of the public record.