---
The Bright Side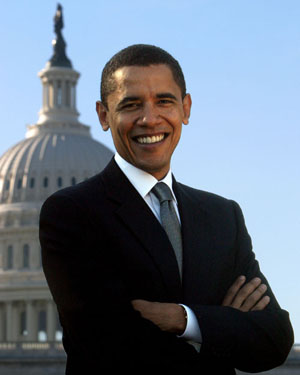 All is not lost, Billionaires. To soothe your upper class mind amid this troubling time of change we offer a few slivers of hope.
- New staffers can be bribed at a much lower rate.
- No-bid education contracts.
- A few more weeks left for pardons, pardons, pardons.

---
RED WHITE & BLING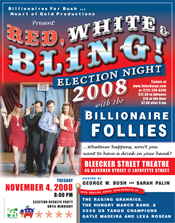 If you're in NYC and looking for something special to do on November 4th, join us at The Green Room at 45 Bleecker in Manhattan for RED WHITE & BLING: Election Night 2008 with The Billionaire Follies.

After eight years of living high on the hog, the Billionaires For Bush will say farewell to the Best President Money Could Buy in a spectacular election night revue. George W. Bush hosts the evening, with Sarah Palin riding shotgun. The two will welcome a delirious cavalcade of acts and guests, including:

- 2008 U.S. Tango Champions Gayle Madeira and Lexa Rosean dancing an Election Night Tango
- The Raging Grannies
- Hungry March Band
- And of course the sparkling and irrepressible Billionaire Follies will be on hand throughout.

The live show will be followed by a results-watching party, with live news coverage playing on the big screen, and periodic commentary from the Billionaire crew. Tickets at Telecharge.com or call (212) 239-6200.
---
We Are Ready to Sacrifice.
McCain details plan to cut taxes for us, the wealthy, and we will in turn give it back... eventually.

Seriously, cut capital gains taxes for wealthy investors. Now. Trust us. (Video courtesy of Time.com)
---
Privatize Profits. Nationalize Losses. Who Got What -
Click here for the breakdown.
---
---
Feb 14, 2008:

Status quo is Latin for scandal, recession, Bush, McCain, global warming, children without healthcare, young men and women dying in Iraq for 100 years, and tax cuts for the super-rich while we rack up trillion dollar deficits. If you prefer more of the same, please stick with the Grand Ol' Party. If you want hope and change, there's that other guy running for president...




Members of the power elite featured in this video include: Dick Cheney, Filmore Barrols, Ivy League-Legacy, Jen Trification, D. Forrest Callee, Monet Oliver de Place, Winsome Mandate, and Lily the Dog.
---
Billionaires in
Hostile Takeover of
Comedy Central's
Jan. 21, 2008:

Celebrate a new year of power and prestige by reading Ivy League-Legacy's "Billionaire's Guide to the Candidates!"
To help you choose the next best president that money can buy, over the coming weeks the Billionaires' own Ivy League Legacy and her crack team of moneyed researchers will be rating candidates from both sides of the aisle on Comedy Central's "Indecision 2008" blog.*

Today's latest post is about Ron Paul, the candidate who's both with us and against us. You can also browse back through previous posts on Mike Huckabee and Barack Obama.



*Regrettably, since this is strictly an internet venture, there is no union-busting involved. We'll have to get those dastardly WGA writers some other way. Asking to be paid for their work. Preposterous!
---
Nov. 5, 2007: The Institute for the Preservation of Dynastic Wealth has launched an urgent search for a sympathetic farmer to represent the millionaires and billionaires who currently suffer under the cruel, oppresive thumb of the Estate Tax.

Time is of the essence. Sen Max Baucus will be hold hearings to consider reform or repeal of the Estate Tax on November 14th. With the opposition finally wising up that our "hurts family farms and small businesses" talking point is empty, we must find a flesh and blood example to prop up before Congress.

In addition to becoming our national spokesperson, winners of the search will receive this wonderful gift bag, courtesy of some of the 18 wealthy families funding repeal efforts.


DON'T WAIT!

Read IPDW's Press Release.
---
Billionaires Defend Fisher Island, Florida



Stand up for beleaguered residents living within America's richest zip code.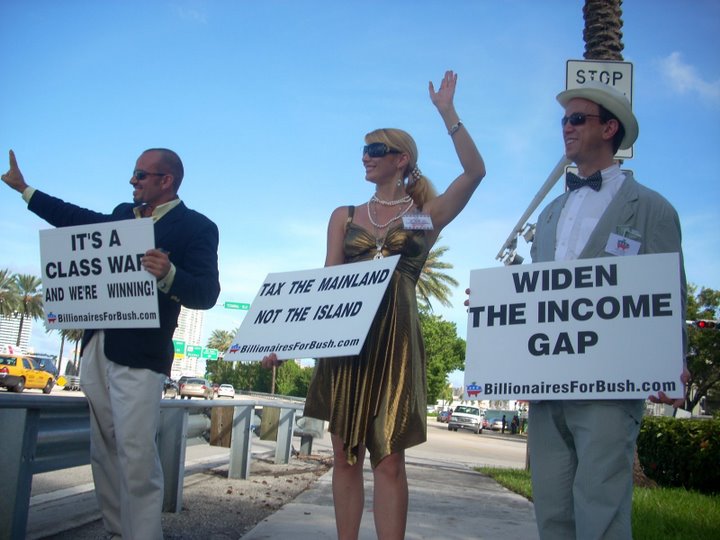 October 20, 2007 -- SEIU complains that Fisher Island employees face segregation, low wages and unaffordable health insurance deductibles. Rhetoric sadly misconstrues indentured servitude as a bad thing. Billionaire fight to keep the status in status quo.

Read all about it in the Sun Post

---
Trust Fund Kids For Norm Canvas For Estate Tax Repeal


Go door-to-door by limo in Minnesota State Senate District 41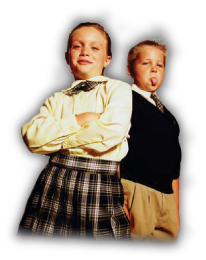 August 11, 2007 --
Trust Fund Kids For Norm (Coleman), a coalition of heirs and heiresses entitled to billions of dollars in inherited wealth, were escorted door-to-door by limo as they campaigned to end discrimination against the wealthiest 0.03%.

Dressed in their finest Polo shirts and crested blazers, young members of the group handed out flyers and spoke with voters of Sen. Norm Coleman's unwavering support for privileged people over working people.

Read more

---
Heirs and Heiresses Unite!


The Billionaires have teamed up with the Center for the Preservation of Dynastic Wealthi, a coalition of decadent heiresses, globe trotting playboys and their trust fund kids to repeal the most progressive tax in America.

Click here for the latest campaign info, action materials and up to date facts on this most discriminatory tax.


---
Want more Billionaire Action?
Click here for all the exploits, plunder and priviledge since 2004.
---
Support Bush's Billionaire Budget!
President Bush has proposed a delightful budget. We really couldn't have asked for a better valentine. In honor of Valentine's Week and its logical culmination on Our President's Day, we are encouraging Billionaires across the land to
thank our president
for his generous — dare we say romantic? — budget. Read our
press release
.
---
Four More Wars!
Billionaires for Bush raises its martini glasses to President Bush?s victory in the 2004 election! In the words of our illustrious CEO, Phil T. Rich, "We paid for eight years." With the help of an estimated 1 million spoiled and purged votes, which our obedient media institutions ignored as a "minor problem", we're looking forward to four more years of war profiteering, corporate welfare, secret energy policy meetings, pollution exemptions, no-bid contracts and White House sleepovers.
Read our post-election press release
.
---
And please enjoy...
---
| | |
| --- | --- |
| We have identified 54 individuals who courageously placed career, reputation, and self-respect on the line during the 2004 election to prevent total voter enfranchisement. With our new collection of signs, posters, and online cards, you too can celebrate their hard work. Here are their stories » | |
---
---
New
Billionaire CD!
Stay the Course!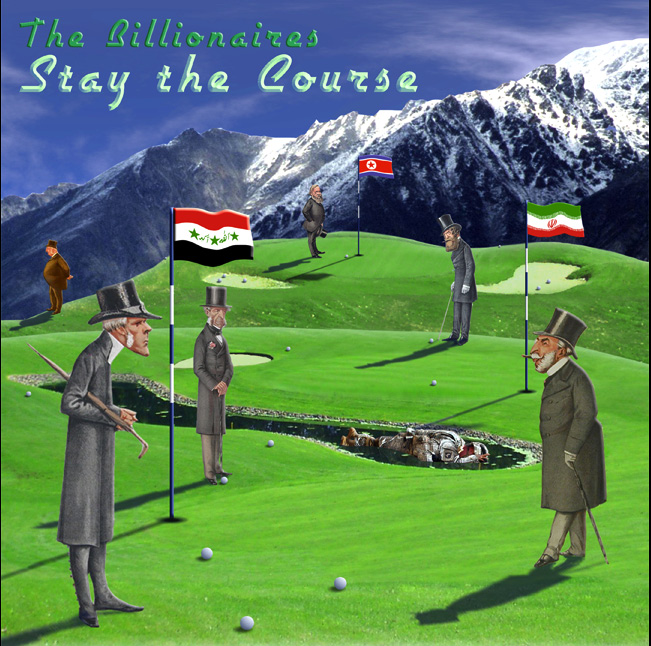 You decide
what you pay
per song!

Give 'em a listen!
Click here.
---
The
2008 Billionaire
Wall Calendar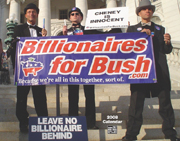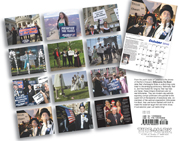 Click here.
---
Now Available
on DVD!

GetontheLimo.com
(Website requires Flash Player 8)
---
Whistle while you plunder: Buy our Music CDs

---
Watch the archives on the I.N.N. website, including a clip show of the first season,

---
---

Social Insecurity Calculator

See how much privatization will cost
taxpayers while we
reap billions!


---
---
Discover your
Billionaire name!
---
---
---