$$ BILLIONAIRE RADIO $$
Bills Privatize Holiday Radio on 2 Coasts!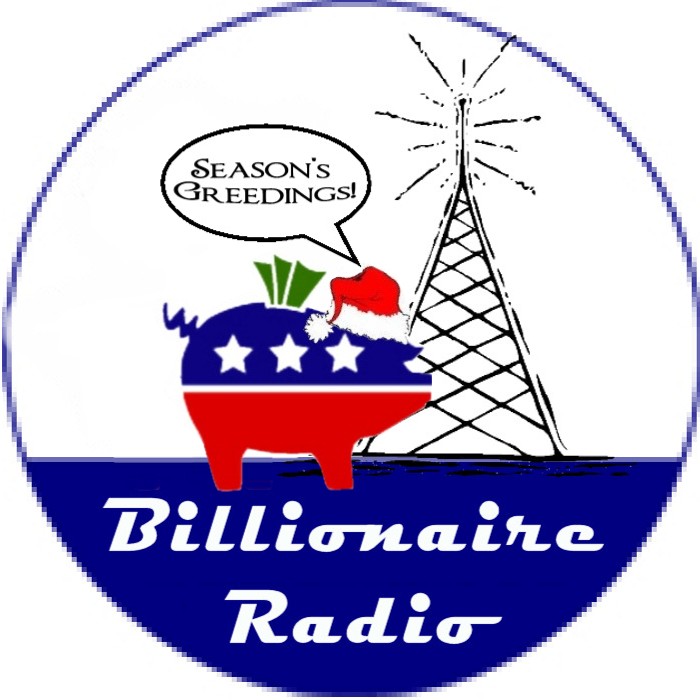 Billionaires For Bush are taking (to) the airwaves in both
Los Angeles
and
New York City
! Sure, we're all more busy than usual counting our record-breaking CEO holiday bonuses, but we can all still take time out to enjoy some Billionaire Radio during the holidays.
In
Los Angeles
, Xena Phobe and cronies present another festive episode of Billionaire Radio on Christmas Day.
Join them in celebrating a year of record-breaking corporate profits on
December 25th at 5pm PST.
Christmas in Beverly Hills? Listen in on
- KPFK 90.7 in Los Angeles
- 98.7FM Santa Barbara
- and streaming live worldwide at
www.KPFK.org
.
In
New York
, The Billionaire Follies privatize the airwaves on WNYE, 91.5FM, taking over the holiday broadcasts of "DC37: Your City, Your Job." Giving the show the much more sensible title "Our City, Your Job," the Follies will regale you with seasonal carols and timeless greed.
Holiday cheer and New Year's bubbly in Trump Tower? Catch us on WNYE
Sunday, 12/24, 8pm EST
Wednesday, 12/27, 5pm EST
And Sunday, 12/31, 8pm EST
Or listen
on the web
.
Don't miss it. Santa wouldn't!
---
"IT DOESN'T GET MORE RELEVANT THAN DICK CHENEY'S HOLIDAY SPECTACULAR 2006"
--The New York Post, 12/16/06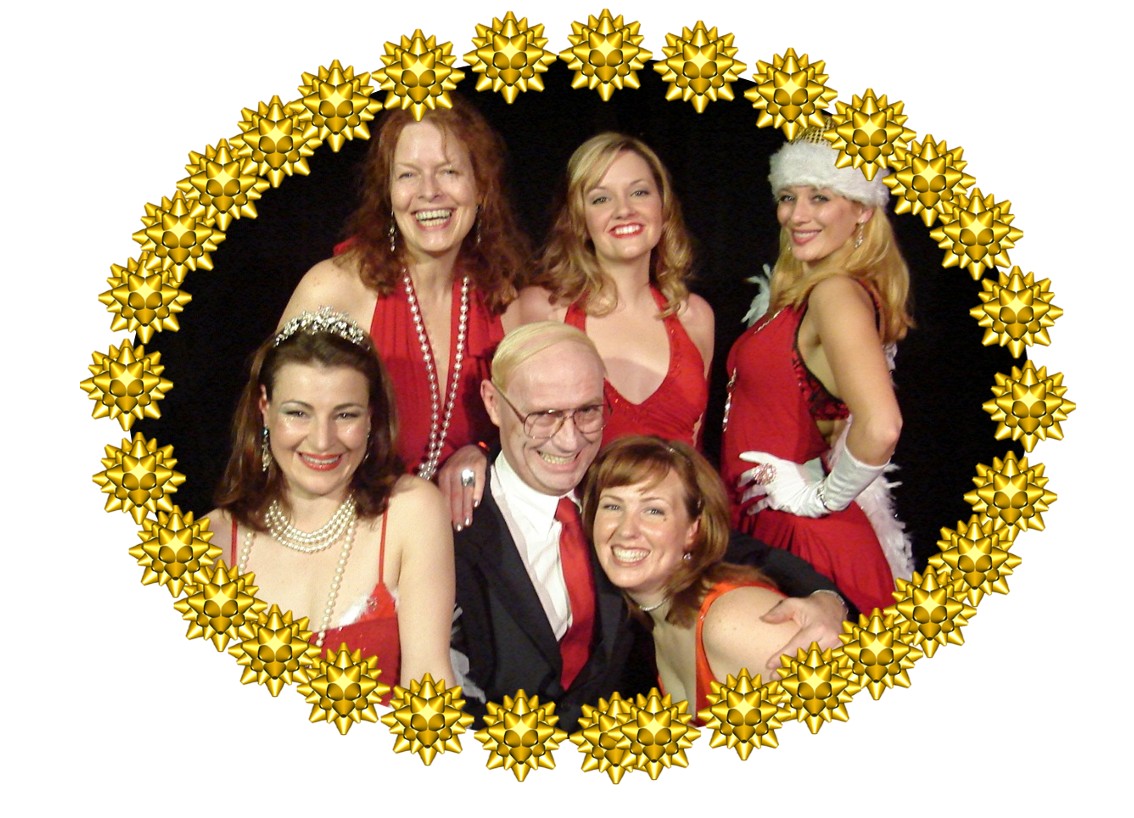 DICK CHENEY'S HOLIDAY SPECTACULAR 2006 was a bigger hit than ever. The show played to sold-out houses in New York City, and our media came through with such great reviews you would almost think we owned them. Our good friend Rupert Murdoch gave us the rave recommendation quoted above, but he wasn't the only one.
Check out what other embedded media had to say about the show...
---
Nov. 7th, 2006:

It's not who votes that counts -
it's who counts the votes.
- Billionaires For Bush

As you know, a stolen election just isn't the same without a good soundtrack. As you prepare to sit back and watch the altered election returns come in, grab a listen to our new song, "Cut and Run."

and the old favorite, "Don't Vote."

While you're at it, remember our loyal Block the Vote heroes of 2004.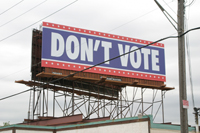 ---
Oct. 24th, 2006 is
"Buy a Congressman Day!"

Billionaire Chapters Around America to Celebrate the Real Ownership Society

All Big Oil CEOs, Robber Barrons, and GOP lackeys encouraged to participate in their local areas.
Get Involved! Download the latest action tools here:
$ Our Certificate of Loyalty to Big Oil
To present to your local legislator.
$ The LTBO Petition Signature Form
Who doesn't love the status quo? Gather signatures to insure that power resides with the
right
people.
$ Motivational Essay
For your reading pleasure. (Goes best with Scotch).
$ The legal Dos And Donts PDF
Campaigning laws even we must abide by. (sigh)
The blogs are already starting to buzz
here
,
here
, and
here.
Find out more and get involved.

---
Loyal To Big Oil Campaign Kicks Off

Billionaires Launch Slick Counter-Offensive to Keep Congress Well-Greased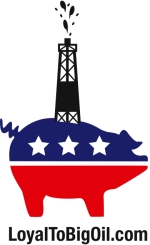 For a mere 100 million in campaign contributions over the last six years, Big Oil has received 30 billion dollars in government subsidies. To us, the Legislature is like real estate: why rent when you can own?

Surprisingly, not everyone agrees.

In recent months, a coalition of groups called Separation of Oil and State has begun calling on members of Congress to represent their constituents' interests and to pledge not to accept campaign contributions from the oil industry.

We know what you're thinking. "Of course we're getting preferential treatment from Congress: we pay for it! Those people at Separation of Oil and State should go buy their own congressmen."

We couldn't agree more.

So a band of billionaires are piping up loud and proud that we're


Help keep the Con in Congress. Click Here to learn more and get involved.

---
---
"World's CEOs March in Support of
World Child Labor Day"

Announce New Initiative to
Empower Global Resource:

"No Child Laborer Left Behind"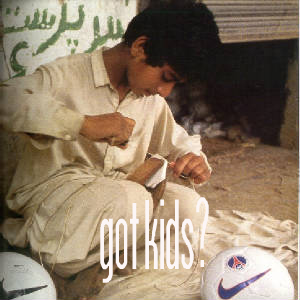 "Child Labor Builds Strong Bones."


Company execs with a keen eye on the bottom line have been utilizing child labor for years and rightfully see it as a win-win. Not only are we happy to create jobs for every member of the family, but for every 16 hours a child spends working in one of our factories, that's 16 hours they don't spend in a ramshackle home.

And don't forget that smaller people demand much smaller paychecks. Hell, sometimes we just give them the loose change we have rattling around in our pockets! And that makes our shareholders very happy.

But the greatest joy is watching tiny fingers learn to stitch together sneakers. Granting them the gift of a sort-of skilled mechanized trade is one of the more heartwarming experiences a Billionaire can have.

So put your hands together for World Child Labor Day, June 12th! But please don't call it "labor", it's really "Play for Pay".


Click here to download Zena Phobe's Billionaire Moment about "Play for Pay"

Or, if you must, Click here to read what the rabble are saying.
Click here for their video.
---
"The Horror!! The Horror!!"

Ken Lay Guilty on all Counts!
HOUSTON, May 25, 2006 - Billionaire Rainmakers-turned-Heroes-turned-Martyrs Ken Lay and Jeffery Skilling found guilty by rabble-infested jury. Both face the rest of their lives in prison.

- President Bush preps emergency pardon procedures.**

- Dick Cheney to host candlelight vigil on White House lawn.
America's tycoons, robber barons and others of the privileged class expected to attend.

**Experts note that in the current political climate, pardon may have to wait until the end of Bush's term.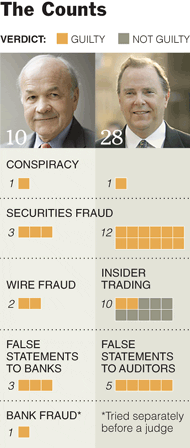 (Chart courtesy NYTimes) Read the full story here
---
Billionaires Stage Anti-Anti-War Rally:
Support our Contractors - Send them to Iran!
On Saturday, April 29th, Billionaires For Bush's War stood up to UFPJ and their appalling march for "Peace, Justice and Democracy" in New York City.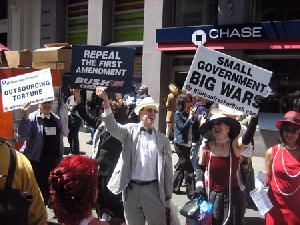 (Image courtesy jmelli at Bluejersey.net)
---
Support Bush's Billionaire Budget!

President Bush has proposed a delightful budget. We really couldn't have asked for a better valentine. In honor of Valentine's Week and its logical culmination on Our President's Day, we are encouraging Billionaires across the land to
thank our president
for his generous — dare we say romantic? — budget. Read our
press release
.
---
Four More Wars!
Billionaires for Bush raises its martini glasses to President Bush?s victory in the 2004 election! In the words of our illustrious CEO, Phil T. Rich, "We paid for eight years." With the help of an estimated 1 million spoiled and purged votes, which our obedient media institutions ignored as a "minor problem", we're looking forward to four more years of war profiteering, corporate welfare, secret energy policy meetings, pollution exemptions, no-bid contracts and White House sleepovers.
Read our post-election press release
.
---
And please enjoy...
---
| | |
| --- | --- |
| We have identified 54 individuals who courageously placed career, reputation, and self-respect on the line during the 2004 election to prevent total voter enfranchisement. With our new collection of signs, posters, and online cards, you too can celebrate their hard work. Here are their stories » | |
---
Be a Billionaire!
Envious of our wealth and political muscle? Now you too can join the ranks of the filthy rich with the latest edition of the Billionaires for Bush
Do-It-Yourself Manual
. Full of action ideas, organizing tips, materials and more, this kit contains everything you need to become a billionaire in no time.
---
Legislation: A Lucrative Investment Arena!
You too can get rich quick in the low-risk, high-yield world of legislation!
Find out how!