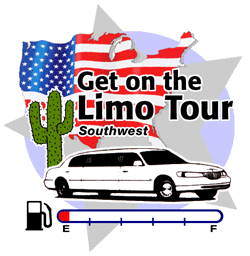 Southwest Limo Tour Details
The tour kicks-off on September 26th in Los Angeles. For three weeks we'll take to the road in our luxe limo (um, our passenger van) and recruit new Billionaires, staging thank you rallies in the critical battleground states of Nevada, Arizona, and New Mexico. Click here for the tour's route and schedule.
We'll be giving our current Billionaire brethren the latest training and tools We'll be recruiting and training our Billionaire brethen, and pummeling regional swing state media with non-stop print and broadcast coverage.
We'll also bring our fabulous Bling Bling K'Ching Singers to perform tribute songs to George Bush from our two music CDs.

If you live in the Southwest, we invite you to greet us on our little holiday through a swing state near you. If you can make it, please drop a line to Monet Oliver d'Place. If you can only send your regards, please do it with cash.
As we sit here sipping champagne in the moonlight, our people are working out the details. Our tentative travel schedule is as follows:
California
Sep 26: Los Angeles — Kick-off at the Beverly Hills Pool Party
Nevada
Sep 27-29: Las Vegas
Arizona
Sep 30: Grand Canyon — Privatize the Park event
Sep 30-Oct 1: Flagstaff
Oct 2: Sedona
Oct 2-4: Phoenix
Oct 4-5: Tucson
New Mexico
Oct 7-8: Albuquerque
Oct 8-10: Santa Fe
Oct 10-12: Taos
Arizona
Oct 12-14: Tempe — Third Presidential Debate
Utah
Oct 14: Bryce Canyon and Zion Nat'l Park — Privative the Park event
California
Oct 15: Los Angeles — Heroes' Homecoming!

Help us fill up the gas tank! Thanks to your large donations, we raised enough money to take a limo tour through the Midwest. But the class war isn't over and a tough fight remains in the Southwest. Help us take our message to the Nevada, Arizona and New Mexico!
See you soon in a swing state near you!