Billionaire Slogans
(click here to download a PDF version)


Class
$ Class Privilege, Not Class Action
$ Class War: Let's finish what we started
$ Protect Inequality

Corporate Greed
$ Accountability Is Bad For Business
$ Free the Enron 7!
$ Free the Forbes 400!
$ Corporations Are People Too.
$ Government Of, By, and For the Corporations.
$ Hands off Halliburton!
$ Insider trading is not a crime!
$ Ken Lay is Innocent!
$ Privatize Everything
$ Profits!
$ What's Good for Americans is Bad for Big Business
$ Jail is Just for the Little People
$ Who Needs a Pension When You have a Golden Parachute
$ You Call it Crime, We Call it Opportunity

Deficit
$ Because The Deficit is Not Growing Fast Enough.
$ More Deficit Spending!

Education
$ Education Is Not For Everyone
$ Lend Money, Not Books

Environment
$ Global Warming = Better Tans
$ Logs, Not Parks
$ Smog = Fog + Profit
$ What have the caribou done for you lately?

Health Care
$ Healthcare IS affordable
$ WARNING: Affordable Healthcare May Be Hazardous to Our Wealth
$ Wealth Care Not Health Care
$ Whatever Happened to 'An Apple a Day'?

Jobs / Labor
$ $2 Million Jobs Lost…It's a Good Start
$ A Jobless Recovery is the Best Kind.
$ A Jobless Recovery? What's Not To Like?
$ Layoffs are Good for My Stock Portfolio
$ You've Got Nothing to Lose But Your Job
$ Snobs Not Jobs
$ Outsource! Because Cheap Labor Costs Less.
$ There's Millions More Jobs to Cut
$ Widen the Income Gap
$ Bring Back Indentured Servitude
$ Lower the Minimum Wage
$ Hire a Child

John Kerry
$ John Kerry: Leaving Billionaires Behind Since 1943.
$ Kerry/Edwards: Where's the Greed?
$ Kerry/Edwards: Bad for Billionaires, Bad For America
$ Flip Flopper: First a Soldier THEN a Senator? Make up your mind, John.
$ Flip Flopper: Clean Air AND Water? Which is it, John?

Miscellany
$ Leave No Billionaire Behind
$ We're all in this together, sort of
$ Repeal the 1st Amendment
$ Think not what you can do for your country. Think what your country can do for us.
$ Who are these 99.9%, And Why Do They Matter?
$ Better than Hoover
$ Cheney is Innocent!
$ Four more Years of Peace and Prosperity, for us
$ Because he's just like us
$ Cheney - Rumsfeld '08

Taxes
$ Tax Work, Not Wealth.
$ Taxes are not for everyone.
$ Thank you for paying our fair share.
$ Only little people pay taxes.

War
$ War profiteering is not a crime!
$ Make war, not jobs.
$ Small Government. Big wars.
$ Blood for oil.
$ Four More Wars!



---
New
Billionaire CD!
Stay the Course!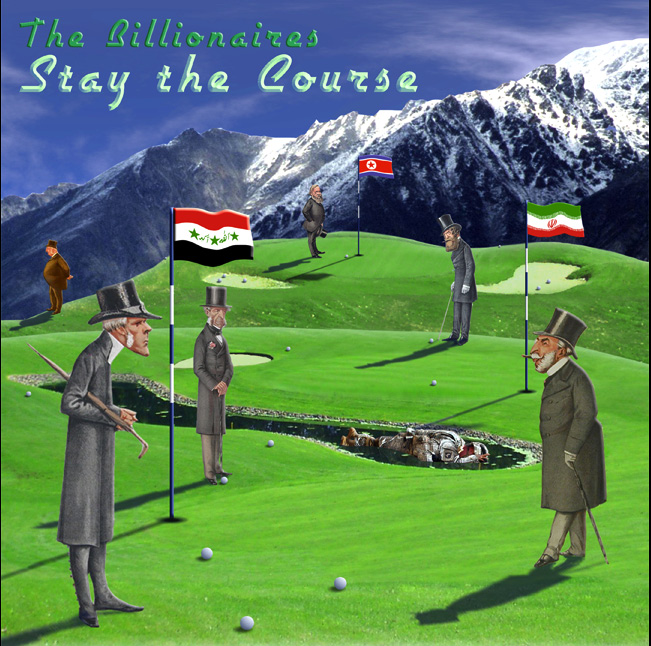 You decide
what you pay
per song!

Give 'em a listen!
Click here.
---
The
2008 Billionaire
Wall Calendar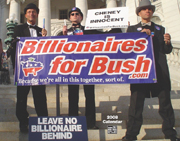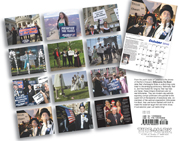 Click here.
---
Now Available
on DVD!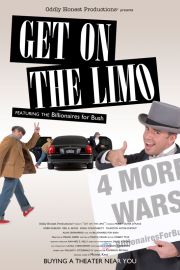 GetontheLimo.com
(Website requires Flash Player 8)
---
Whistle while you plunder: Buy our Music CDs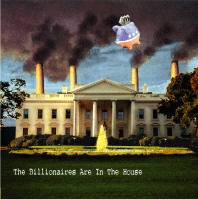 ---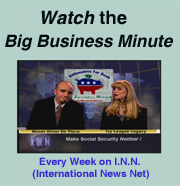 Watch the archives on the I.N.N. website, including a clip show of the first season,

---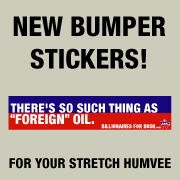 ---

Social Insecurity Calculator

See how much privatization will cost
taxpayers while we
reap billions!


---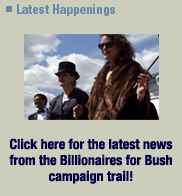 ---
Discover your
Billionaire name!
---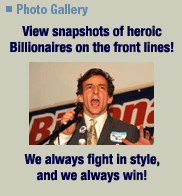 ---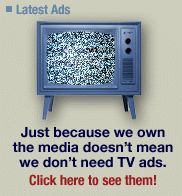 ---