America's Poor Vote for Continued Domination by America's Rich
'Huzzahs' Heard in Yacht Clubs Around the World
Billionaires Raise a Glass of Bubbly to their 2005 'Champaigns'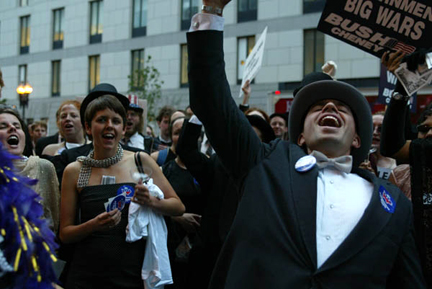 You read the headlines. You heard the concession speech. You've long since turned off the television news. The bad news is that the powerful elite aren't going anywhere. The good news is neither are the Billionaires for Bush.
We've spent the last two months re-tooling. We're tan (very tan); we're rested (as usual); we're ready. We hope you are too. Our upcoming plans are ambitious and daring; our approach is proven and effective. We hope you will continue to be a part of it.
So, without further ado...
Calling all far-flung colleagues of inordinate wealth! It is time to dust off that smoking jacket, pull on those evening gloves, warm up that limo, and help us continue to show the world that you can speak power to truth.
Join fellow Billionaires for Bush from around the country at the Re-Coronation Events for King, err, President Bush from January 20-23

$ The Re-Coronation Inaugural Ball
$ Auctioning off Social Security and other American Favorites
$ Launching our new national campaigns, or rather, Champaigns
$ Billionaire Convergence
$ and more...
Visit our Inaugural page or call the B4B hotline at 1-216-803-0990 for the latest info.


THE RE-CORONATION INAUGURAL BALL
Bigger! Larger! More Unchecked! All the Excess, Twice the Greed!
On the night of the Inauguration, Thursday, January 20, 2005 at Platinum Nightclub in Washington, DC. 8:30pm till very very late.
Billionaires for Bush invites all supporters to join them for this most-anticipated inaugural Ball — a billionaire extravaganza to help raise money for the many battles ahead. Join your fellow Billionaires as they dance the night away to the beats of the Off-Off Wall Street Singers and other musical guests. Formal attire required. Sliding scale from $20 to $1,000,000. Tickets are limited — click here and ensure your name is on the list with a pre-purchased ticket.
If you're in town the day of the inaugural, join us as we


AUCTION OFF SOCIAL SECURITY (and other American favorites like the Bill of Rights, the Environment, and Democracy). Bidders restricted to Corporate Lobbyists, CEO's, and Oligarchs only, please. All others may sit and watch helplessly from the Fee-Speech zone. More details here.
(Dick Cheney's not the only one who can assemble a secret task force — there's still time to get in on the planning for this event. To volunteer, visit our volunteer page.


LAUNCH OF OUR NEW NATIONAL CHAMPAIGNS (sic)
The election was just the beginning of the jackpot for Billionaires, but we've only got four more years to cash in on our payoff. Let's get started with these next CHAMPAIGNS!
$ Privatize Social Security: Cashing in on old people's retirement savings hasn't been this easy since Enron looted California!
$ Eliminate the "Dynasty Tax" that steals a portion of the inheritance Buffy and Miffy deserve to squander on sports teams and failed real estate deals.
These plans and more will be discussed at the


BILLIONAIRES FOR BUSH NATIONAL CONVERGENCE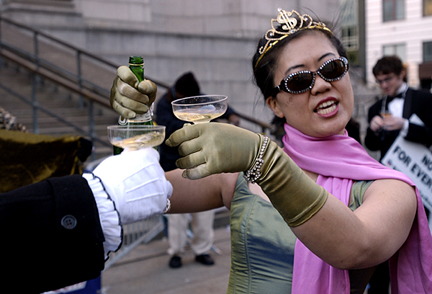 Billionaires for Bush from all across America — from Beverly Hills to Grosse Pointe to Wall Street — will converge for a weekend of planning, training, and strategy sessions. Intended for Billionaires who've been active in their local chapters and want to keep the battle going, the Convergence will be the chance for Billionaires from around the country to meet, share their insights and experience, take part in informative training sessions, and hear Progressive guest speakers as we move forward into 2005.
Friday, January 21st, from 1 to 5pm, and Saturday, January 22nd, from 11am to 5pm in Washington DC.
If you would like to attend, please RSVP to convergence@billionairesforbush.com with your real name, billionaire name, city, state, phone number/s and chapter.


WATCH FOR MORE TO COME!
Billionaires for Bush are gearing up to take 2005 by storm. Look for upcoming e-mails highlighting current activities and projects, as well as more ways you can get involved.
And finally, before you go: B4B has been nominated for this year's Political Dot-Comedy Awards in the "Best Bush Humor" category. The award recognizes the year's best political humor on the web. Sadly, our friend Wally O'Dell is not in charge of the voting, so the trophy is not yet in the bag. E-mail your friends and cast your vote before the 29th of December.
www.BillionairesForBush.com
---