Billionaires Kick-Off Membership Drive
As you've witnessed, Billionaires for Bush's presence on the ground has spread faster than an oil slick in virgin waters. We've started 85+ chapters nationwide (see map below), become Bush & Cheney's most steadfast cheerleaders on the campaign trail, taken a limo across the Midwest, and made tidal waves at the Democratic and Republican National Conventions.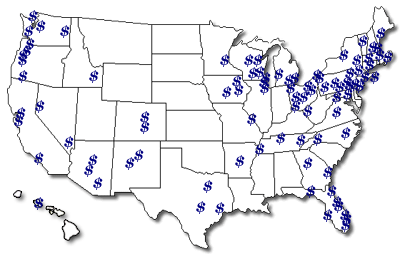 At the same time, our online presence has grown faster than the federal deficit. Our email list has doubled to over 7000 members in the past few months, our website traffic has rocketed, and merchandise is flying off our cyber shelves. We've been featured on blogs and news sites across the internet, and if you search for "Bush" on Google, we're at #6 and rising (out of 37,300,000!).
Ladies and gentlemen, it is time to make the next great leap! Billionaires for Bush is proud to announce its first ever membership drive. We've resolved to expand our email list to 12,000 members and reach 100 chapters nationwide by October 1. Many of our upperclass associates are still hiding behind boardroom doors and tinted Humvee windows, needlessly circumspect about our wise investments in the Bush campaign. It's time for them to come out of the gold-paneled drive-in closet and make every dollar count!
$ Click here to nominate your associates for membership now!
$ Entice them to subscribe to our email list!
$ Encourage them to join their local chapter, or start their own!
All billionaires are welcome — old wealth, new wealth, war profiteers, dot-com kings — and we're especially interested in uppercrust folks from Miami, Tampa Bay, St. Petersburg, Las Vegas, Reno, St. Louis, Harrisburg (PA), Cincinnati, Columbus, Youngstown (OH), or any swing state.
We need to up the ante in the final forty days before the election, and we need your help!
www.BillionairesForBush.com
---