New York, May 22: You're invited!

Billionaires for Bush are throwing a fantastic dressed-to-the-nines ball and CD release party!
Event Details
Three full floors of the City Stage space in Chelsea. DJ's, comic performance, live music (featuring songs from our new album, The Billionaires Are In The House), great eats & drinks.
The ball will take place Saturday, May 22, at City Stage, 435 West 19th Street, NYC, 8pm to 4am.
This is our major Spring fundraiser. We're up to 50 chapters and we're rolling on several exciting new initiatives, including a "Get on the Limo" tour through the Midwest swing states, and a Billionaires rapid repsonse network to birddog Bush & Cheney wherever they go. And for this we need money.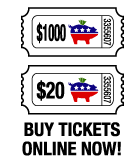 Tickets are from $1000 to $20. Limited $15 tickets are available for those with financial difficulties (your hedge fund had a bad quarter). Purchasers of $100+ tickets will receive goody bags filled with billionaire merchandise, including the new CD. Our first ball sold out in pre-sale, so be sure to buy early!
This is a dressed-to-the-nines event. Come as a billionaire, be creative! Click here for fashion tips.
For more information contact ball@billionairesforbush.com.
Can't make it? Flying to Nigeria to bribe energy officials? Why not buy a ticket for a fellow billionaire who's under IRS scrutiny, or donate to the campaign!
And, to whet your appetite, here are some sights and sounds from our first ball, which was a smashing success:
The 1st Billionaires Ball, 01/31/04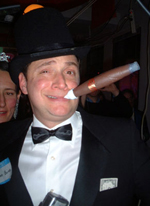 Excitement and the smell of fresh currency saturated the air as billionaires arrived by the hundreds to our Exclusive SoHo Loft.
From inheritors of fortunes to war profiteers, captains of industry to dot-com kings, over four hundred men and trophy wives of extraordinary wealth from across the land gathered here to kick off the Billionaires for Bush national campaign and celebrate our formal endorsement of George Walker Bush for President. Donned in diamonds and the latest sweatshop fashions, we were dressed to oppress.
After moving speeches by Co-Chair Phil T. Rich and the Reverend Billy, we waltzed to the melodies of the Let-Others-Go-Hungry March Band, sipped fine champaigne, and schmoozed the night away. It was absolutely fabulous!
www.BillionairesForBush.com
---