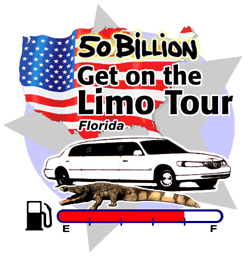 Florida Limo Tour Details
Kicking off on October 3 in Tampa, for the next month 50 Billion and his crew will tour with their new hit song, Don't Vote!, exploiting the political power of hip-hop to encourage youth to leave the voting to us. After all, too many gangster rappers at the polls would perturb our comfortable headlock on political power!
As part of our new "Block the Vote!" campaign, the Florida tour will relentlessly counter-protest the efforts of organizations like CODE PINK, The League Of Pissed-Off Voters and Power On! to mobilize the youth vote. They will also join Florida Billionaires to bring proper recognition to Geroge W. Bush, the best president money can buy!


If you live in Florida, we invite you to greet us on our little holiday through a swing state near you. If you can make it, please drop a line to Clea R Channel. If you can only send your regards, please do it with cash.
As we sit here sipping champagne in the moonlight, our people are working out the details. Our (VERY) tentative travel schedule is as follows:
Oct 3-4: Tampa
Oct 5-6: Largo
Oct 7: Tampa
Oct 8: Gainesville
Oct 9: Tampa
Oct 21: Live Oak
Oct 23: Titusville
Oct 24: Tampa
Oct 30: Brooksville
Oct 30-31: Ybor City

Help us fill up the gas tank! Thanks to your large donations, we raised enough money to take a limo tour through the Midwest. But the class war isn't over and a tough fight remains in the Southwest. Help us take our message to the Nevada, Arizona and New Mexico!
See you soon in a swing state near you!