Come to our rally in support of more and better wars! You can't spell American without I.R.A.N.!
Fight for Halliburton's 10% of all war costs!
There's No Such Thing as Foreign Oil!
September 24
Help keep Washington a Freedom From Speech zone, by drowning out those pesky protesters!
Sign up to be a DC Billionaire!
Just want to know about our cool parties and protests?
Subscribe to the DC announcement list!
Who are the DC Billionaires?
DC Chapter Richly Upholstered Chair:
Ivan Tital

DC Chapter Mistress of Love and Black Ops:
Annette Proffet
The Mistress of Love is in charge of recruiting and retaining DC Billionaires. Contact her now!

DC Chapter Mistress of Surveillance:
Claire Lee Superior
The Mistress of Surveillance is in charge of keeping track of pesky liberal think-tanks, unions, and political action committess, and nonprofits in the area. If your group is feeling neglected by the DC Billionaires, contact Claire now!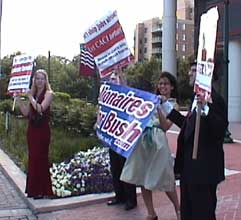 Pictures of past events
Apr. 15th Tax Day
Jan. 20th Billionaires Re-Coronation Inaugural Ball! See the pictures! Read the Reviews!
Jan. 20th Auction of Social Security See more pictures! Read the Reviews!
Oct. 23rd The First DC Billionaires Ball! Where Dr. Dee Bookes debuted his latest hit The Real Dick Cheney
Oct. 15th We rally to support Sinclair Broadcast Group!
Oct. 11th We Protest the Vote for Change Concert
Oct. 9th We Krashed the Kerry Karnival!
Sept. 19 Education is a Privilege at Georgetown University
Aug 14 Defend Dick Cheney Day! at the Naval Observatory
July 5th Takoma Park Independence Day Parade
June 19th Auction Night for Kerry fundraiser
June 10th D.C. for Democracy Fundraiser
June 3rd Take Back America conference
June 2nd CACI Protest
(yes we have pictures and video!)
April 15th Tax Day action at Friendship Heights P.O.