Links to the national Billionaires for Bush pages

The DC Billionaires launched the Dick Cheney Defense Fund right in front of our man's Disclosed Location. For the facts about the issue, including our flyer, talking points, and posters, click here.

Here are some new still pictures from the video shot by Billionaire videographer Hugh Eyntgettinnany (video to come soon).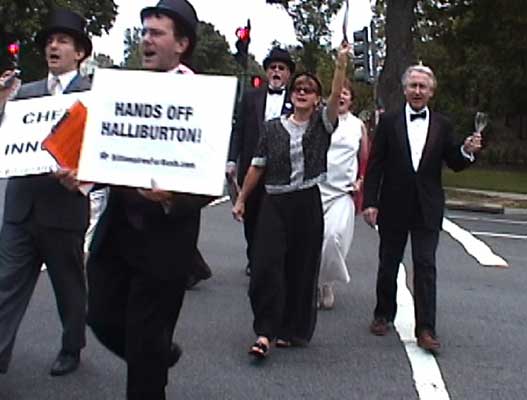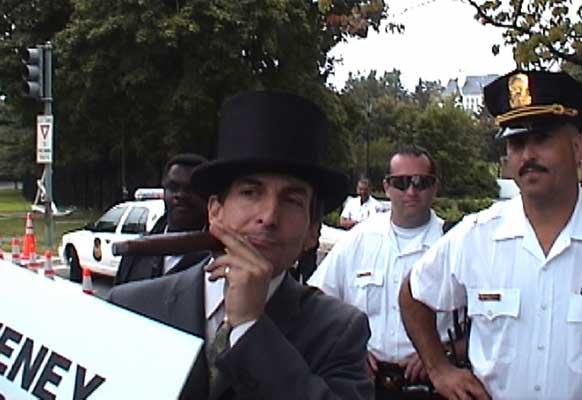 Standing before Cheney's disclosed location in DC, Phil T. Rich consults with security on how to best defend against unwanted long-haired protesters.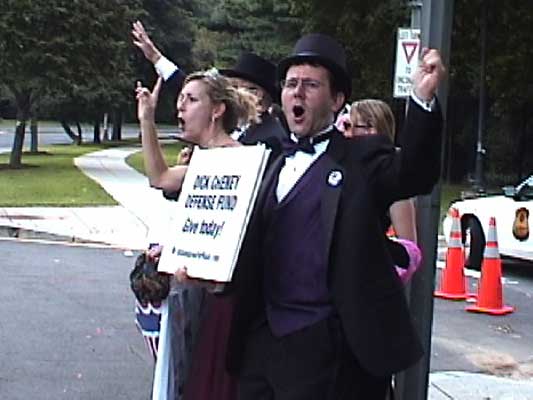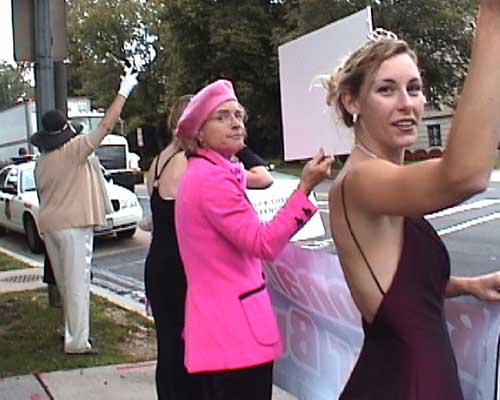 "Dick Cheney is Innocent!", cry coquettish debutantes. Standing before the Naval Observatory, star-struck debutantes fear that Cheney's prosecution is a harbinger of attacks on all wealthy people. When, they ask, will the jack-booted thugs come for them?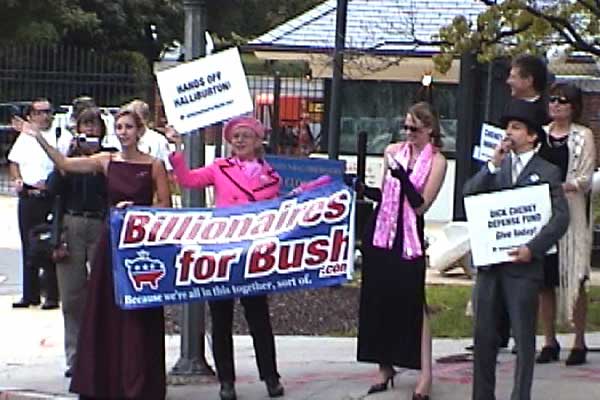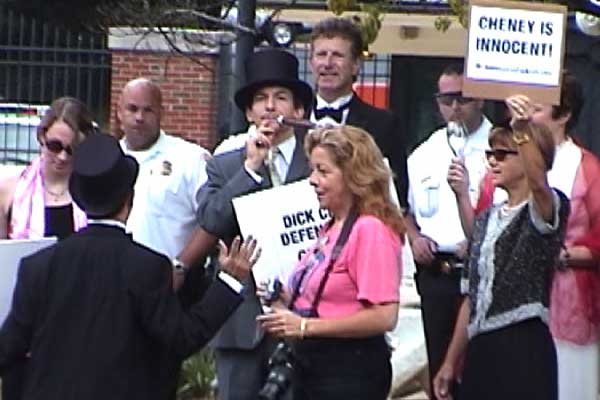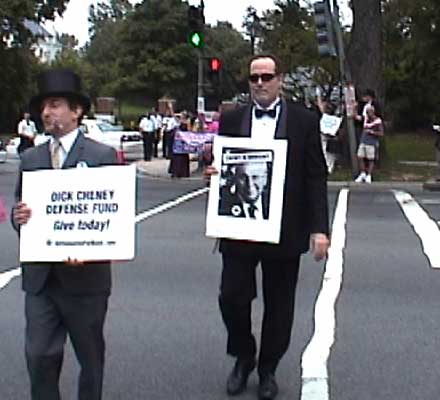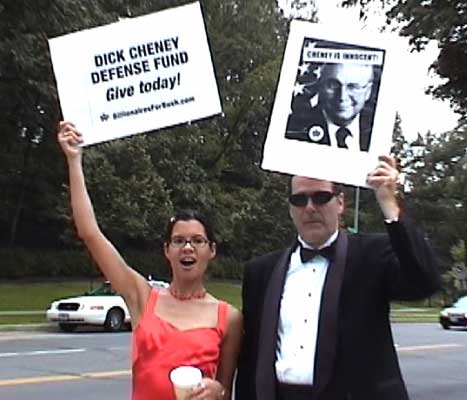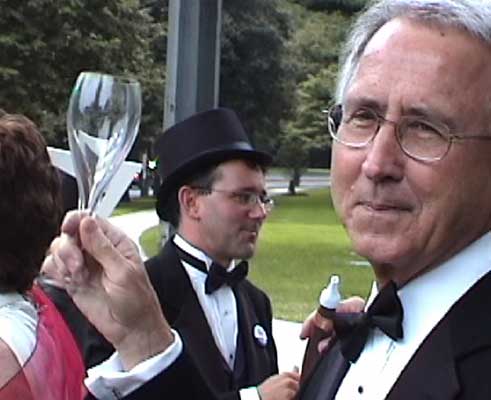 A festive mood reigned among the DC Billionaires guarding Dick Cheney from the slings and arrows of outrageous fortune.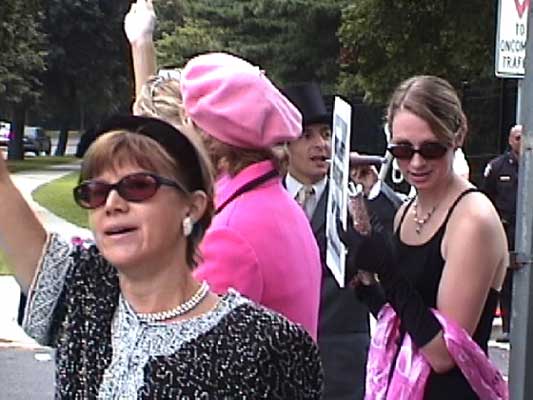 "Cheney is Cute!" cry love-besotted trophy wives! Standing before Cheney's digs, the center of Presidential power, proved too much for Mary Riche, of the Annapolis Riches, her distant relative Phil T. Rich, and other Cheney fans. Caught in the glow eminating from that reclusive, wealthy hunk Cheney, they begin professing their love in quite undelicate ways.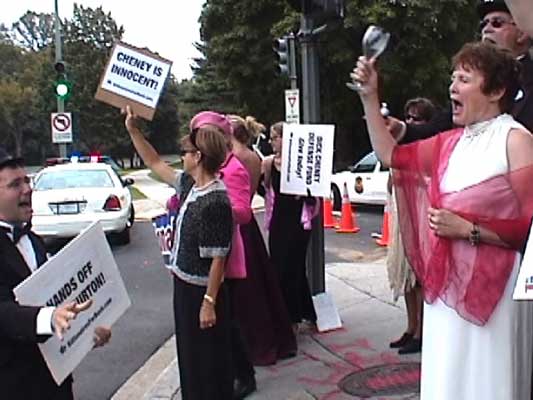 Tax Work! Not Wealth!
Here are some more pictures of the event taken by Toledo Billionaire Moe Bucksforme.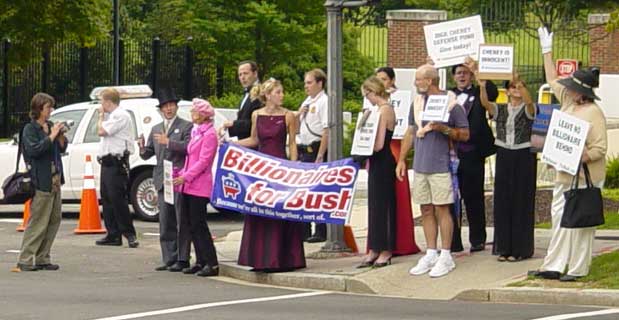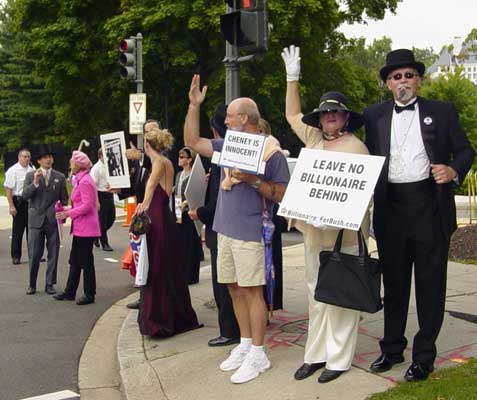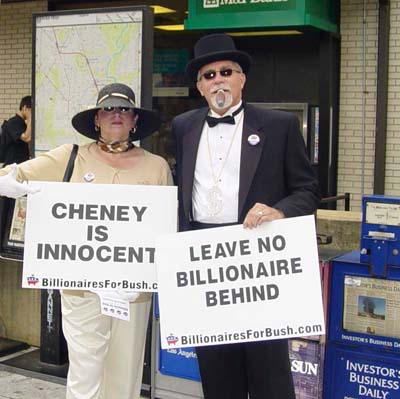 A tip of the top hat to Gael Murphy from Code Pink ( http://www.codepink4peace.org/)for knowing the letter of the law and for showing us that pink is coming into its own as a formalwear color option.

Mad props to Caryn and Lydia from Running In Heels ( http://www.womenagainstbush.org/home.html) for showing that today's women can protest in heels, come up with pithy sound-bite slogans, and wave like princesses all at the same time. Who says you can't have it all?

Kudos also to Toledo Billionaires Brenda and Don Spurlin, whose bling-bling outshone our muted Old-Money-Coast attire!

Gracious blue ink on 100lb parchment thanks to the Annapolis Billionaires for sailing their yacht into town and helping their landlubber relations weather the hurricane.

Thanks are due also to DC Billionaire Hugh Eintgettineny for donning the workaday clothes of the common man in order to videotape the action for posterity.

PLEASE PLEASE PLEASE!
If anyone has photos, please send them to me and I will put them on our website and send you all the links. We have video of the action which will eventually post on the site, but my digital camera battery died.

Folks, the money is just pouring in to the coffers of the Cheney Defense Fund.
And money is the measure of all success.

Stay wealthy!
----------------------------------------
Ivan Tital
ivan.tital@billionairesforbush.com
Billionaires for Bush is recruiting in D.C. and other urban areas. If you want to dress elegantly and spread our message in actions and rallies, we want to hear from you!
DC chapter leader Ivan Tital (ivan.tital@billionairesforbush.com)